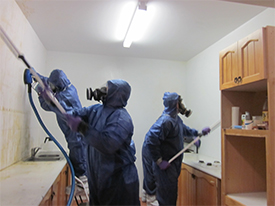 A violent crime occurs in our country about every 25 seconds. And, a suicide occurs about once every 13 minutes. These statistics are a little startling and show that many crime scenes need to be cleaned in our country every single day. Crime scene cleanup is not something that you need to think about on a daily basis, but when you or a loved one is a victim, it is a service that you will need quickly. KRI's trusted team of Louisiana crime scene cleaning experts are ready and willing to help families in the Louisiana area recover from violent crimes, suicide or other unexpected loss or trauma.
As the premiere Louisiana crime scene cleanup company, KRI manages every difficult aspect of a cleanup job, from the moment we get the call to the moment we let you know that the area has been restored to safety and can be used once again. We manage a crime or trauma scene with care, always putting the safety of those in the area (including our crew) first. Here is a checklist of steps we follow at each and every crime scene we manage:
We always equip anyone in the hazardous area with protective gear to protect them from disease, infection and bacteria present at every crime scene.
We quickly restrict all other access to the area so that others are kept safe while we work. This also minimizes the risk of cross-contamination.
We properly dispose of all unsalvageable property as well as all biohazardous materials from the blood cleanup process.
We carefully apply thorough sanitation treatments using professional grade cleaning and sanitation products (bleach will not do the trick). We often apply these methods multiple times.
Our team will test and access the satiation level until it reaches safe levels.
We provide every family (or point of contact a certificate of completion indicating that the area is safe for normal use once again.
KRI: Louisiana's Trusted Leader in Crime Scene Cleanup
So, if a violent crime strikes someone close to you, act fast and partner with KRI Crime Scene Cleanup to safely, thoroughly and compassionately clean the area and get it back to normal. Our team has been cleaning up Louisiana crime scenes for years. We do not think that a family member should ever have to cleanup an area where a loved one was hurt. Let our team handle this difficult task so that you do not have to experience additional emotional distress or risk your own health. Call us anytime at 1-888-382-2930 with questions or if you would like more information.