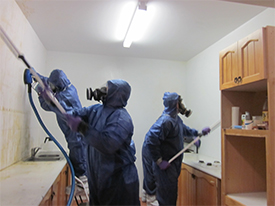 Crime scenes are the result of despicable, vile acts. Conservatively, they're unnerving sights. And they're even worse when the victim is a friend or loved one and the people closest to them are responsible for cleaning up the remains. KRI believes that no one shaken by a terrible incident should be obligated to clean up the aftermath. Or, for that matter, that any kind of bio-hazardous environment including blood, bodily fluids or the deceased, should be handled by anyone other than a trained professional. Grave risks can come with cleaning up crime scenes. That's why we provide our Professional Crime Scene Cleaning services to Killeen residents and business owners.
Crime Scene Cleanup Service Killeen
It's our goal to help you get your life back to as regular state as possible, as soon as possible. We do that by offering prompt responses and careful cleanup, sanitation and disinfection of crime scenes. The sooner an area is disinfected, the safer and easier it can be to try and return to the life you still have. Pestilence has the ability to spread quickly when people meddle with, or get too close to, the scene. Any kind of disruption to the scene can further heighten the probability of health risks. Also, removing an unsightly scene can help lessen the reminders of the traumatic experience. Our professional bio-hazard cleanup crew will eradicate any hazardous conditions and return your home or building back to a safe and sanitary environment for everyone.
Insurance Covered Cleaning Services
The awful truth is that loved ones are frequently on the hook when it comes to handling the results of a sudden death, whether it was a homicide, suicide or accident – KRI believes that people shouldn't have to clean up the remnants of their beloved lost family members or friends. The heinous act has already been perpetrated; please don't relive it by trying to scour the stains and remains from your home or another location. And cleaning the scene yourself will only cause further heartache. If there are concerns about expense, we should make people aware that insurance often covers much of the costs of our cleanup services, and in rare cases where there is no insurance, we will work with you to set up payment arrangements that are reasonable for your situation.
Crime Scene Cleanup Scenarios:
Burglaries
Assault
Vandalism
Shooting
Forensic Work
Homicide (Murder)
Suicide
Drug Operations
Accidents
Important Crime Scene Cleanup Steps:
Always Equip Anyone in the Hazardous Area with Protective Gear
Restrict Access of the Area
Dispose of Unsalvageable Property
Apply Thorough Sanitation Treatments – Multiple Times
Assess and Test the Satiation Level
Provide a Certificate of Completion/Safe Habitation Document
Dedicated & Confidential Cleanup Services
If a deplorable crime ever intrudes on your life or the lives of people close to you, it is natural that you'll need time to process the events. We understand this because we deal with victims of sick acts every day. But there are people in the general public who just don't seem to understand, and media or neighbors may press you for specifics, which you're obviously not ready to give. Our local Killeen cleanup crew understands that what has happened is your story and that it's your right to tell it first. We never disclose pictures or information about the events or area to anyone that doesn't need to know.
Contact KRI for crime scene cleaning in Killeen, Texas at 1-888-382-2930, [email protected], or fill out our service inquiry form on our contact page.
Professional Cleanup Qualifications:
40-hour OSHA HAZWOPER Certified
Bloodborne Pathogens Certification
TX Motor Carrier Permit
Licensed TX Contractor
Licensed TX Trauma Scene Waste Management Practitioner
Back to Crime Scene Cleanup Services Texas.